Our Leadership
Michelle Hunget - Artistic Director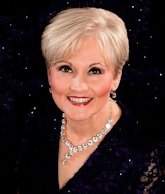 Michelle started her barbershop career at the age of fifteen, singing Lead in her High School quartet, "A Pinch of Spice," put together by her Clay Center High School music director who happened to be the Manhattan, KS Men's Barbershop Chorus director, too! She joined the Kansas City Chorus in 1986 after being "discovered" by another KC Chorus Sweet Adeline who happened to attend and cantor at the same Catholic Church!
Michelle has served on the Board of Directors (now the Leadership Team), has been a member of the Music and Choreography teams, Tenor Section Leader, KC Chorus Front Row member and YWIH Chorus Director. She is a dual chorus member with the Wichita Chorus. At the Regional level Michelle has sung in four Championship Quartets (Plaza Lights - 1992, 93, 94; Fanfare - 2001; Zing! - 2002, 03, 04, 05; and Heat - 2013), winning a total of nine times.  She served as the Region 5 YWIH Co-Coordinator with her daughter, Mary Duncan.
At the International level, Michelle is a Queen of Harmony winning with the International Championship Quartet, Zing! in 2009 at Nashville, Tennessee. She has been serving on the Coronet Club Board for several years, and most recently sang Tenor with the International Finalist Quartet - HEAT. In the fall of 2016, the Kansas City Chorus was fortunate to welcome Michelle as our new Artistic Director extraordinaire! She loves to coach quartets and choruses focusing on Showmanship, Expression, and Sound.
For Michelle, Barbershop is more than a hobby - it is a family affair! Michelle's husband Grant, is also a Barbershopper who sings with the CSD Championship Chorus Central Standard, and is a two-time CSD District Championship Quartet Baritone. Her daughter Mary  sang with the Region 5 Quartet Legacy, and is now the Baritone of the former International Rising Star Championship Quartet, ClassRing, competing in Las Vegas this fall. In her "other career" Michelle is a nurse at the Overland Park Regional Medical Center in the Neonatal Intensive Care Unit. She loves taking care of the babies who occasionally hear a lullaby or two.
---
Leadership Team
Kris DeWeese - Team Coordinator (2019-2021)
Kelsey Kessler - Team Secretary (2020-2022)
Larraine Boyd - Financial Manager (2019-2021)
Linda Schumacher - Communications Coordinator (2020-2022)
Marti Shutty - Events Coordinator (2020-2022)
Carol Schumacher - Marketing Coordinator (2019-2021)
Lee Ann Kell - Membership Coordinator (2019-2021)
Misty Swanner - Competition Coordinator (2020-2022)
Kay Bromert - Education Coordinator (2020-2022)
Rosemary Olas - Performance Coordinator (2019-2021)
Music Team
Michelle Hunget - Artistic Director
Heather Schouten - Associate Director / Asst. Baritone Section Leader
Kris DeWeese - Assistant Director
Rosemary Olas - Tenor Section Leader
Sooz Combs - Lead Section Leader
Amy Gardner - Asst. Lead Section Leader / Children's Choir Director
Kay Bromert - Baritone Section Leader
Mary Olson - Bass Section Leader
Susanna McBride - Visual Coordinator / Choreographer
Liddy Miller - Asst. Visual Coordinator / Asst. Choreographer